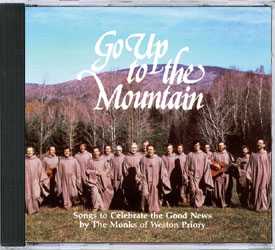 Jesus 3:27
If I Be Lifted Up 3:20
With Thanksgiving To God
(Instrumental Reprise) 3:30
Be Glad, O People 4:38
Carver of Words 3:00
For Us To Live 3:23
Something Which Is Known
(Instrumental Reprise) 3:41
Total time: 49:42
* Song Book Supplement:
"O" Antiphons:
O Wisdom
O Adonai
O Root Of Jesse
O Key Of David
O Morning Star
Bearer Of Peace
Emmanuel
Call To Worship:
O God, You Are Present
Antiphons:
The Angel Spoke
Let Us Not Forget
You Are The God Of The Living
Naked Have I Been Born
*

The organ music for this supplement is in the
So Full Of Deep Joy Organ Book
Songs to Celebrate the
Good News
Growing into a community is an experience of joy and sorrow, of searching, struggling, healing and hoping. The music in their recordings grows out of the prayer and life experiences of the brothers of Weston Priory.
To listen to a clip or download MP3s CLICK HERE
To view or download lyrics click on each song title.
For information on ordering & shipping or to order by U.S. Mail, please visit our Order Information page