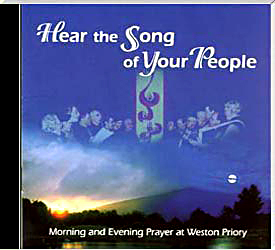 Morning Prayer (total time: 28:23)
Gospel Reading: Luke 6: 31, 36-38 0:52
Bells 0:28
Be Filled With Joy 3:49
Bells 0:20
Evening Prayer To Welcome the Sabbath (total time: 26:50)
Bells 0:27
Opening Chant 1:59
Prayer of Blessing 1 2:12
Reading: John 1 2:14
Lord, May Your Mercy 0:36
Prayer of Blessing 2 1:55
The Lord's Prayer 1:42
Blessing 0:08
Morning and Evening Prayer
At Weston Priory
Morning and evening have been special moments for a people's naming of grace in their lives. Our "ordinary" lives and days have been embraced at their roots by the self-giving of God in love. We pray in order that we may more fully, actively, and consciously live in that embrace.
To listen to a clip or download MP3s CLICK HERE
To view or download lyrics click on each song title.
Please note:
Shipping & Handling Charges:
All US orders (1st Class): $9.00
Canada (1st Class Int'l.): $20.00
All others (1st Class Int'l.): $30.00
For information on ordering & shipping or to order by U.S. Mail, please visit our Order Information page