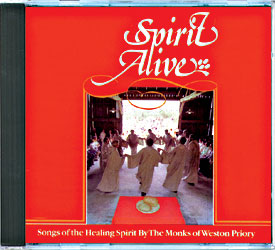 Total time: 40:30
Song Book and Organ Book Supplement:
Songs:
In The Stillness
(for evening/night prayer)
Antiphons:
Arise, Cry out In The Night
God Is Spirit
I thank You God
May The Love, The Light and Joy
May We Never Be Far
O Come To The Waters
O God, Be Faithful With Us
Those Who Live By The Truth
Wisdom
Your Word, O God
   11. to 14.   Alleluia Antiphons
Acclamations:
It Is Your Faith
Yes, Alive And With Joy
Your Word Is Wisdom
Table Blessing:
Songs of the Healing Spirit
The community of Benedictine monks at Weston Priory finds that not only does "Singing makes you happy", as one of the psalms says, but it is a means of expressing a whole way of life, and carries the message of that way of life.
To listen to a clip or download MP3s CLICK HERE
To view or download lyrics click on each song title.
Please note:
Shipping & Handling Charges:
All US orders (1st Class): $9.00
Canada (1st Class Int'l.): $20.00
All others (1st Class Int'l.): $30.00
For information on ordering & shipping or to order by U.S. Mail, please visit our Order Information page