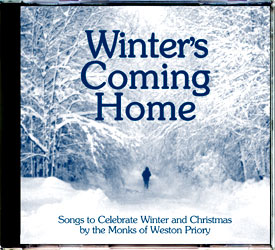 Time: 20:09
Evening Song of Christmas
God Will Be With Me 2:12
Psalm 96 2:03
Morning Softly Awakens 2:51
Morning Softly Awakens
(Inclusive Language)
Gospel Reading and
A Light Has Shone 1:36
Litany and Prayer 1:35
A Child is Born 3:16
Time: 16:05

Total time: 36:14
Inclusive Language Musical Notations
The Song Book and the Organ Book include
Calm Is the Night.
Songs To Celebrate
Winter and Christmas
Growing into a community is an experience of joy and sorrow, of searching, struggling, healing and hoping. The words of these songs are sometimes significant passages from scripture, sometimes poetic expressions of life situations, set to music by the brothers of Weston Priory.
To listen to a clip or download MP3s CLICK HERE
To view or download lyrics click on each song title.
Please note:
Shipping & Handling Charges:
All US orders (1st Class): $9.00
Canada (1st Class Int'l.): $20.00
All others (1st Class Int'l.): $30.00
For information on ordering & shipping or to order by U.S. Mail, please visit our Order Information page