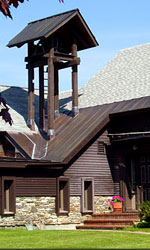 "Jesus asked them, 'What are you seeking?' They said, 'Rabbi, where do you live?' Jesus responded, 'Come and see!'"


-- John 1



An Exploration of Monastic Values
Seven Days With a Monastic Community
Profile of the Experience
A seven-day structured and focused time, sharing in the rhythm of a monastic community life: prayer, work, study, dialogue, reading and recreation.
Participants live together in our guest house, sharing meals with the brothers in the monastic dining room.

Participants take part with the brothers in the daily prayer of the community.

Participants and brothers exchange in dialogue regarding the values and experience of monastic life and contemporary social issues.

Participants work with brothers, doing forestry, maintenance work, gardening, cooking, and craft work.

Participants share in recreational activities with the brothers, such as conversation, hiking, and folk dancing.
---
58 Priory Hill Road • Weston, VT 05161-6400 • 802-824-5409 • Fax 802-824-3573
Home | Contacting Us | Directions | Links | Prayer Schedules | Bulletin | Reflective Articles
Becoming a Brother | Retreat Accommodations | Monastic Living Experience
A Latin American Experience | The Gallery Shop | Shop Online
© The Benedictine Foundation of the State of Vermont, Inc. All Rights Reserved