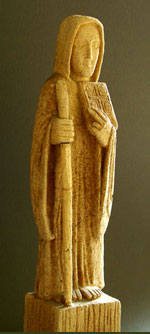 "Jesus asked them, 'What are you seeking?' They said, 'Rabbi, where do you live?' Jesus responded, 'Come and see!'"


-- John 1


An Exploration of Monastic Values
Living for Seven Days With a Monastic Community
from Monday, May 22, to Sunday, May 28, 2017
For young men interested in exploring the life-giving values
of community, prayer, work and hospitality.
Profile of the Experience | A Typical Day's Schedule | Details
Living together in a Benedictine monastic community has deepened our appreciation of the values that are at the heart of our tradition and way of life.

The monastic way continually calls us:
to create a community of love, as an alternative to isolation;
to be persons of prayer and reflection, as an alternative to meaninglessness;
to offer hospitality to each other and to our visitors, as an alternative to prejudice and division;
to share in humanly dignifying work, as an alternative to work that is alienating and impersonal;
to live as a sign of the Beatitudes—non-violence, joy, justice, and peace—for the healing of our suffering world.
We have always tried to offer opportunities for others to experience the living of these values. Visitors to our monastery are usually welcome in our guest houses for a stay of a few days to a week.

We are now offering an opportunity for a more focused stay to a group of young men. We hope to share together with them the experience and values of living with meaning and hope as members of our contemporary society.

If you are in your early twenties to mid-forties, whatever your background, and would like to know more about community life and values -- as we live them here at Weston Priory -- we invite you to consider living for a week with our monastic community.

Living With A Monastic Community

Spring 2017

We invite young men to share in an experience of monastic living with our Benedictine community and from Monday, May 22, to Sunday, May 28, 2017. Through these opportunities, the brothers hope to share what monastic life and values can mean for life in our contemporary society.
Weston Priory
Attn: Monastic Experience
58 Priory Hill Road
Weston, VT 05161-6400
Or e-mail us at: monasticexperience@westonpriory.org
In your e-mail, please include your postal address and telephone number.
Profile of the Experience | A Typical Day's Schedule | Details
---
58 Priory Hill Road • Weston, VT 05161-6400 • 802-824-5409 • Fax 802-824-3573
Home | Contacting Us | Directions | Links | Prayer Schedules | Bulletin | Reflective Articles
Becoming a Brother | Retreat Accommodations | Monastic Living Experience
A Latin American Experience | The Gallery Shop | Shop Online
© The Benedictine Foundation of the State of Vermont, Inc. All Rights Reserved