Handcrafts and Music by the Brothers
In the Gallery Shop, the various handcrafted work of the brothers (ceramics, enamels, paintings, calligraphy, weaving), as well as the the music of the community , are displayed, and are available for purchase.
Craftwork From Around the World
We make available books, and quality religious art from artists and craftspersons around the world. Many of the items in our shop are from Benedictine monasteries in other parts of the world, and from communities of the poor in the Third World:
hand-carved crucifixes from the highlands of Guatemala;
statues of saints carved at the Benedictine monastery of La Soledad in Mexico;
handwoven stoles and liturgical banners;
religious art made by refugees in El Salvador; nativity sets from Mexico, Brazil, and the Holy Land.
Books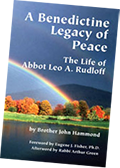 We hope that the books offered for sale in our shop will assist others in embracing the wonderful gift and serious challenge of being Christian in the world today. The range of topics, and the quality of the titles, reflect the concerns of the wider Catholic Church, in communion with other Christian Churches, and in dialogue with the world religions and the world as a whole. These topics include scripture, liturgy, and theology; growth in prayer and meditation; the "spirituality of the everyday;" the Benedictine tradition; justice and non-violence; an opening to the other great world religions (particularly the three great monotheistic faiths); bereavement, personal growth, and healing.
Through the offerings in our shop, we affirm that our faith in the Incarnation embraces our human artistic creativity, and is celebrated and expressed in the riches of every culture, Christian and non-Christian. Likewise, our faith in the God of Jesus opens us to mutually enriching dialogue with the entire human family.