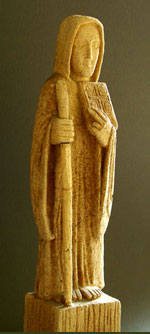 Learn More
About Us:
"Jesus asked them, 'What are you seeking?' They said, 'Rabbi, where do you live?' Jesus responded, 'Come and see!'"


-- John 1



'The Challenge of Living the Vision'
Benedict's vision was so simple...
A community of monks, striving to live as brothers, in love, equality, and service, and whose guide is the Gospel of Jesus.
Persons of prayer, worship and reflection.
A community of gospel hospitality, living by the work of their hands.
Brothers who are a sign of the Beatitudes in the world -- non-violence, justice, and peace -- responding to the voice of God in the cries of the poor.
Living the vision is so challenging...
If you are a man in your early 20s through your early 40s, and are searching to unite a life of faith and prayer with a commitment to embodying Gospel values in today's world, we invite you to explore life with us in our Benedictine monastic community at Weston Priory in Vermont. Please contact us.
Come and See!
For more information, you may contact: vocation@westonpriory.org
---
58 Priory Hill Road • Weston, VT 05161-6400 • 802-824-5409 • Fax 802-824-3573
Home | Contacting Us | Directions | Links | Prayer Schedules | Bulletin | Reflective Articles
Becoming a Brother | Retreat Accommodations | Monastic Living Experience
A Latin American Experience | The Gallery Shop | Shop Online
© The Benedictine Foundation of the State of Vermont, Inc. All Rights Reserved