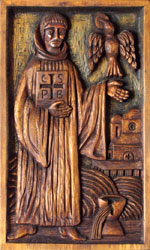 "Jesus asked them, 'What are you seeking?' They said, 'Rabbi, where do you live?' Jesus responded, 'Come and see!'"


-- John 1



What's New
Please note:
the brothers are on an extended Retreat and Quiet time.

January 14 to February 18, 2018
beginning after the 11:30 a.m. Sunday Eucharist on January 14,
resuming the regular schedule with the 11:30 a.m.
Sunday Eucharist on February 18.
There are no public celebrations of common prayer during this time.
However, the Chapel, the Visitors' Center, and the Gallery Shop remain open.

From Friday, January 12, 2018,
through Monday, February 19, 2018
our music will remain available for download at
https://store.cdbaby.com/Artist/TheMonksofWestonPriory
and by phoning our Gallery Shop
at 802-824-5409
11:00 AM to 1:30 PM

Please note: The music and other esales items
will not be available for online shopping
during this time.
We now have an Instagram account. Follow us @westonpriory
The following sections have been updated as indicated.
58 Priory Hill Road • Weston, VT 05161-6400 • 802-824-5409 • Fax 802-824-3573
Home | Contacting Us | Directions | Links | Prayer Schedules | Bulletin | Reflective Articles
Becoming a Brother | Retreat Accommodations | Monastic Living Experience
A Latin American Experience | The Gallery Shop | Shop Online
© The Benedictine Foundation of the State of Vermont, Inc. All Rights Reserved